DURHAM, NC, August 14, 2018 — MGT Capital Investments, Inc. (OTCQB: MGTI) announced today it entered into a collaborative venture with Bit5ive LLC to design and manufacture a crypto mining pod capable of operating 1MW of mining hardware. The pod will be branded and sold by Bit5ive as POD5, with MGT retaining naming rights for its corporate owned pods. In return for royalty payments from Bit5ive, MGT is providing its engineering and design expertise as well as capital to develop the final production model. Orders are expected to begin in mid-September 2018.
The POD5 will be a fully-assembled containerized turnkey solution with all mounting racks, cabling, power distribution hardware, wiring, and networking included.  In addition, the POD5 will offer a proprietary cooling method allowing for maximum density within the container.  Stephen Schaeffer, Chief Operating Officer of MGT commented, "We believe that the 1-megawatt layout allows for both portability and flexibility to accommodate varying deployments in different locations. We fully intend to utilize the design in the future expansion of our Bitcoin mining operations."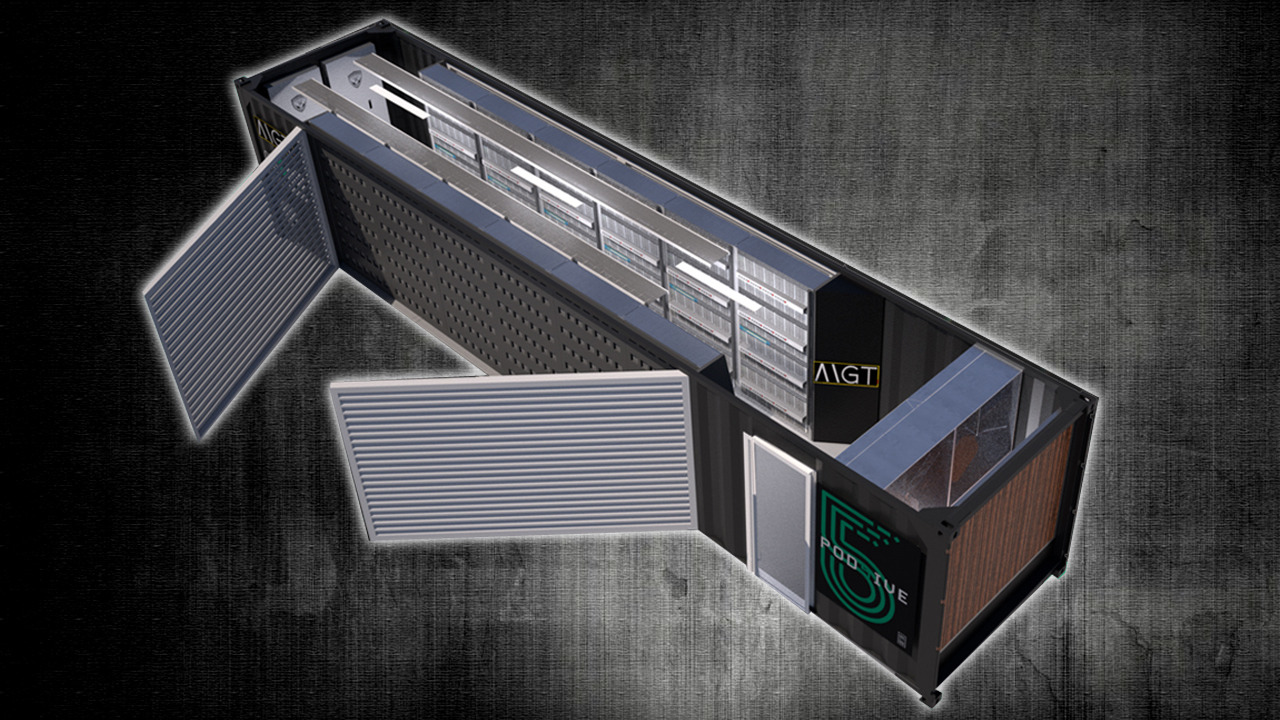 Robert Collazo, Founder and Chief Executive Officer of Bit5ive stated, "The 1-megawatt pod idea was borne from interest of our customer base that was looking for a solution offering greater density within the container form factor. With the collaborative efforts of our team and MGT, we have designed an excellent configuration for a turnkey container requiring minimal setup effort to allow for quick mining startup." Further information about POD5 can be found at Bit5ive.com. Sales inquiries should be addressed to POD5@Bit5ive.com.
About MGT Capital Investments, Inc.
Operating in facilities in northern Sweden and Washington State, MGT Capital Investments, Inc. (OTCQB: MGTI) ranks as one of the largest U.S. based Bitcoin miners. MGT owns and operates approximately 6,800 Bitmain S9 miners, and 50 GPU-based Ethereum mining rigs. Further, the Company continues to execute on an expansion model to secure low cost power and grow its crypto assets materially.
For more information on the Company, please visit: https://mgtci.com
Forward–looking Statements
This press release contains forward–looking statements. The words or phrases "would be," "will allow," "intends to," "will likely result," "are expected to," "will continue," "is anticipated," "estimate," "project," or similar expressions are intended to identify "forward–looking statements." All information set forth in this news release, except historical and factual information, represents forward–looking statements. This includes all statements about the Company's plans, beliefs, estimates and expectations. These statements are based on current estimates and projections, which involve certain risks and uncertainties that could cause actual results to differ materially from those in the forward-looking statements. These risks and uncertainties include issues related to: rapidly changing technology and evolving standards in the crypto mining industry; the ability to obtain sufficient funding to continue operations, maintain adequate cash flow and execute its business strategy; volatility in the Bitcoin market; and other factors set forth in the Company's most recently filed annual report and registration statement. Readers are cautioned not to place undue reliance on these forward–looking statements, which reflect management's analysis only as of the date hereof. The Company undertakes no obligation to publicly revise these forward–looking statements to reflect events or circumstances that arise after the date hereof. Readers should carefully review the risks and uncertainties described in other documents that the Company files from time to time with the U.S. Securities and Exchange Commission.
Investor and Media Contacts
Robert Lowrey
Chief Financial Officer
Grace Livingston
919.973.0954